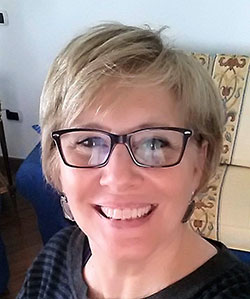 Ciao! My name is Pina, I'm from Naples, I have two sons – now both adults – and two cats.
I have a great passion for my city and I love meeting new people. Hence the idea to set up a place that would allow me to combine what I love most, adding beauty to my life and to that of travellers whose path I'm crossing.
In 2016, I renovated my large apartment, getting more rooms and officially creating the perfect bed & breakfast for a stay in Naples in via Luca Giordano 142. The site is really comfortable and strategic.
The apartment is on the first floor of an elegant Art Nouveau building of the early 20th century, in the green space of the most elegant and lively pedestrian area of ​​the city, in the heart of the Vomero neighbourhood, which is 2-minute walk from the subway (Line 1, Quattro Giornate station) and 10-minutes walk from all three funiculars.
I strongly wanted that the two mini-apartments of my b&b were also aesthetically the expression of what I mean as hospitality: clean in lines, simple, essential and functional.
Together with my son Davide, we welcome always personally our guests, facilitating their stay with the maximum willingness, but despite our strong attention to details to offer the perfect stay, we believe that it is essential to offer the maximum freedom to enjoy a pleasant stay.
For this purpose, our b&b is designed to ensure the maximum autonomy for everyone, having an independent access for each apartment, which is equipped with every possible comfort.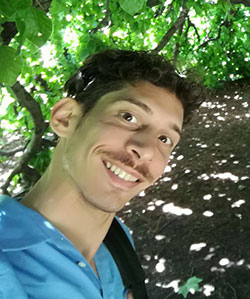 Ciao, I'm Davide!
I am a biologist and in via Luca Giordano 142 I literally grew up.
Over time I have seen my neighbourhood growing with me, becoming more and more people-oriented, full of proposals for those who live there and those who wish to visit. I love it, as I love Naples and make it known to friends who do not know the city. So, when my mother proposed me to create a b&b in our apartment I could only support her!
I love to offer many suggestions to our guests, in order to allow them to experience Naples from the right perspective, by enjoying not only the most famous but also the picturesque aspects.